Tony Storti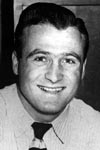 Stout's most successful football coach, compiled a 21-9-2 record from 1948 to 1951 with a conference title in 1949. An all-conference running back, his playing career at Stout was interrupted by World War II. In 1943 with Camp Grant, he gained 178 yards rushing against the University of Minnesota, was named all-service fullback, and played in Chicago's all-star game. He led the University of Delaware to undefeated seasons in 1946 and 1947 to end his playing career. He served as head coach and athletic director at Montana State from 1952 to 1958. He had Big Sky Conference Championships in four of those years. His 1956 team was a national championship squad. He was selected Big Sky Coach of the Year four times. Storti was voted into the Montana State Athletic Hall of Fame in 1998.
Fred Seggelink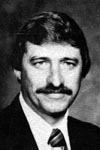 Remembered as one of the Blue Devils' most brilliant athletes, earned nine letters at Stout, four each in basketball and track and one in football. When he graduated in 1963, he was the university's all-time leading scorer in basketball with 1,441 points. He once scored 40 points in a game. On another occasion, he grabbed 26 rebounds. During his career, he broke or tied just about every basketball record. He was the squad's most valuable player in each of his four years as well as an all-conference selection. He won NAIA All-American honors in 1963. In track, he set records in the pole vault, javelin, high jump, 440 and 880 yard relay.
Pat Krall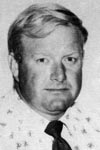 Was considered one of the strongest linemen ever to play the game for Stout. It is difficult to break the circle of anonymity that surrounds the offensive line but Krall has managed to do it in gaining Hall of Fame recognition. Krall won all-conference honors in 1959, '60 and '61 playing offensive tackle and clearing the way for fabled running back Glenn Harke. He was NAIA honorable mention All-American in 1959. Before coming to Stout, he played one year at Virginia (Minn.) Junior College where he also received All-American honors. He also participated in track at Stout and served as an assistant coach in 1962.