Digital learning

Successful e-Scholar laptop program rollout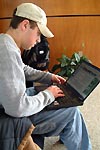 The rollout of the e-Scholar program at the beginning of the fall semester forever transformed UW-Stout. As more than 1,300 freshmen received laptops with wireless capabilities, the university wrote another chapter in its history by becoming the first public digital university in Wisconsin. As a result, e-Scholar students will spend their entire college career linked to their academic programs, their instructors and to each other through digital technologies.
Ninety-five percent of freshman students surveyed prior to the program's launch [1] had a positive reaction toward becoming an e-Scholar. Individual students reported that they regard the laptops as:
a tool to "enhance [their] learning experience."
a method to become "more familiar with technology."
"an easy way to be connected with UW-Stout and its students."
an opportunity to be "a part of something new and great."
Everything at their fingertips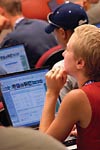 As students logged on to the university's wireless network, they discovered a new e-Scholar portal. This easy-to-use Web site brings together and personalizes all the information students need to enhance their learning experience, making their laptops even more efficient tools.
All over campus, students access the portal to:
view their class schedules and information about their academic programs.
seek academic advice and technical help.
register for classes.
pay tuition or check the balance in their Stout OneCard accounts.
peruse campus news and upcoming events.
e-mail their instructors or search the library catalog.
access their course materials and complete assignments.
Currently, the university is also developing an advisement section for the portal. This feature will guarantee that both advising faculty and students seeking guidance will have access to the same information, including program plans, degree audits, test results and course sequencing.
The e-Scholar portal was selected by the Association of College and University Telecommunications Professionals, a national organization, as the "Site to See."

A learning transformation
Together, a wireless infrastructure, laptops and the e-Scholar portal are transforming how learning occurs at UW-Stout by extending the scope of the traditional four-walled classroom to every lounge and green space on campus, and beyond.
UW-Stout instructors have been working together to transform their courses and how they teach to accommodate the new technologies. Surveyed instructors reported that they use the laptops [2] to:
file share in class.
initiate in-class writing, grammar exercises and peer review.
conduct Web research both in and out of the classroom.
post class notes, syllabi, quizzes, exams and grades.
deliver and receive student assignments.
facilitate group discussions.
Likewise, e-Scholar freshmen reported that they use their laptops more than they expected to take notes and gather research. (Figure 1) In addition, they reported using their laptops outside of class [3] as an organizational tool; for schoolwork, e-mail and personal entertainment; and to keep up with campus events.
Long-term impact
UW-Stout is evaluating the long-term impact of the e-Scholar program on active learning, critical thinking and teaching. The four key evaluation themes [4] are learning and performance; engagement; expectation and satisfaction; and teaching and instructional practice. Current results [5] indicate that, during their first year, students participated in a multitude of in-class and out-of-class activities that enhanced their learning. (Figure 2)
Additionally, an analysis of courses dropped and failed during the fall semester [6] suggests the program is already having a positive effect on student engagement. Students dropped or failed approximately 340 fewer credit hours than in the previous two years. Because students will not have to take these credits over, their potential tuition savings total more than $50,000.
Maintenance, memory and speed
To ensure e-Scholar students receive reliable, consistent technical support, UW-Stout established a walk-up help desk where laptops can be brought for immediate repairs. Configuration problems, software conflicts and malfunctioning machines are serviced in less than an hour.
If a laptop is in need of further repairs, the student's hard drive is removed and installed into a loaner machine in less than a half hour.
As a result of feedback from students [7] and the rapid pace of changing technology, approximately 2,000 incoming students in the fall of 2003 received laptops that are more robust than the ones students received at the fall 2002 rollout. Both the new Compaq and Apple models possess:
quicker processors.
larger hard drives.
more than double the amount of memory.
Additional changes for the second year of the e-Scholar program include:
an improved wireless network to satisfy or exceed student and instructor needs.
laptops provided for transfer students entering as sophomores.
expanded professional development and training opportunities [8] and resources [9] for both instructors and students.
---
Additional Resources: