The Classlist feature allows you to learn about the students enrolled in the course. It also allows them to learn about you, therefore it's advisable to update your profile or to create a profile in case you haven't done so already.
Creating or Editing Your Profile
Step 1:
To access the profiles, click on Other Tools in the upper right of the D2L screen and select Classlist from the dropdown menu.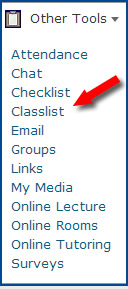 Step 2:
Find your name in the list and click on the arrowhead after your name.

Select Edit my User Profile from the dropdown menu.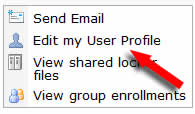 Fill in as many blanks as you wish. To add a picture to your profile, click Browse… and select the picture from the files on your computer.
Step 3:
When you are finished formatting your profile, click Save and Close. Click on Classlist to return to the complete list.
View Other Users' Profiles
Click the arrowhead to the right of other users' names and select View profile.