BLUE DEVIL BASKETBALL CAMPS
SUMMER 2009
| | | | |
| --- | --- | --- | --- |
| Dates | Camp | Resident | Commuter |
| Mon-Thurs, May 18-21 | Evening Youth Camp (Grades 1-6) | ---- | $65 - commuter |
| Fri-Sun, June 12-14 | Boys Drills, Skills & Shooting Camp | $170 | $140 |
| Fri-Sun, June 19-21 | Girls Drills, Skills & Shooting Camp | $170 | $140 |
| Sun-Wed, June 28-July 1 | Girls Drills, Skills & Team Camp | $280 | $240 |
| Sun-Wed, July 19-22 | Boys Drills, Skills & Team Camp | $280 | $240 |
EVENING CAMP:
Quality fundamental instruction will be given on all aspects of the game with heavy emphasis on ball handling, dribbling, passing and shooting. Techniques will be taught in individual breakdown sessions and competitive drills. Adjustable baskets allow younger campers to work on shooting with proper technique. Grades will be divided to allow for instruction based on skill and age level. Camp sessions will run from 6pm-8pm and this camp is for Grades 1st thru 5th.
** THIS CAMP ONLY - Family Discounts: $5 Off for each additional member with a 4th member FREE

DRILLS, SKILLS & LEADERSHIP CAMPS:
This dynamic camp is designed to not only hone basketball skills, but also develop life skills which includes personal gowth, success, friendship, and fun. This camp is specifically designed to motivate, challenge, and foster a desire to achieve. Emphasis will be place on leadership, sportsmanship, and teamwork skills. In the "Drill 4 Skill" setting, ball movement, shooting, post play, perimeter play, scoring under pressure, defense, rebounding and the ability to finish will be drilled.
DRILLS, SKILLS & SHOOTING CAMPS :
This camp is designed to place a greater emphasis on shooting and scoring. You will be drilled in the fine points of finishing around the rim, drive and kick technique, post and perimeter scoring, coming off screens, utilizing the pick and roll, and specific mechanics that separate the great shooters from the average. Individual shooting sessions will be available for each camper to work with a shooting coach on their specific needs.
COMBO DRILLS & SKILLS CAMPS :
This camp is designed to cover all the basketball skills from A-Z. Defense will be an emphasis of this camp with specific technique in closeouts, slides, gap control, box outs, contesting shots, and many, many more areas. Specific post and perimeter defense will be separated and broken down. Offensive work will also be incorporated with a wide variety of skills that are necessary for success in today's game.
DRILLS, SKILLS & TEAM CAMPS :
This camp is specifically set up for teams and individuals at the 6th, 7th, and 8th grade level. Instruction in transition, pressing, half court offense, half court defense, and breakdown drills will be utilized along with a round robin game schedule. Individuals are welcome to this camp as we will form additional teams. Coaches or Chaperones that wish to attend with their teams will be allowed FREE OF CHARGE with meals and housing provided.

General Basketball Camps NO LONGER fit the needs of the serious athlete. These "Drill for Skill" camps will enable the athlete to reach the next level.

Make Checks Payable:
UW-Stout

Mail To:
Stout Basketball Camps
203 Sports & Fitness Center
UW-Stout
Menomonie, WI 54751
CAMP DIRECTORS:

Ed Andrist, UW-Stout Head Men's Basketball Coach:
Eddie Andrist is in his 34th year of coaching and his ninth year with the University of Wisconsin-Stout Blue Devils. With 10 years as a high school coach and 21 in college, Andrist has collected 358 college victories, 6 Conference Championships, 9 appearances in the National Tournament including 6 Final Fours and 3 National Collegiate Championships. At Mount Senario College, the Fighting Saints won six straight UMAC championships and 88.9 percent of their games under Andrist. Coach Andrist spent the summers of 2000 and 2007 coaching in the Middle East for the Qatar National Men's Basketball Team winning both the Asian and Gulf Countries Championships in 2000, the first ever and still only major championship for Qatar.
Mark Thomas, UW-Stout Head Women's Basketball Coach:
Mark Thomas has been at the helm of the Blue Devil Women's team for the past 22 seasons. He has taken a perennial loser and shaped them into one of the best and most exciting small college basketball teams in the nation. UW-Stout has finished in the top four in the nation's top Division III conferences 11 times in the last 12 years. His teams have participated in the NCAA playoffs seven times in the past 11 years including WIAC Championships in 2002, 2005, 2006, 2007, and 1997. Thomas, the winningest coach in WIAC history, has received Coach of the Year honors six times and has compiled more than 350 collegiate victories.
FACILITIES:
UW-Stout is home to some of the finest facilities in the Midwest. All camp sessions will be held in Johnson Fieldhouse in the Main Gymnasium (below left) and Multi-Purpose Facility (below right). Overnight campers will stay in the UW-Stout residence hall located across the street from Johnson Fieldhouse. Our Treatment Center is located in Johnson Fieldhouse and our Athletic Training staff will be on duty all sessions.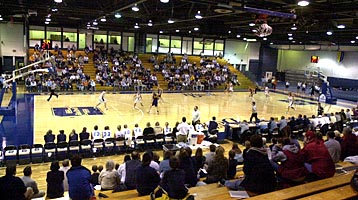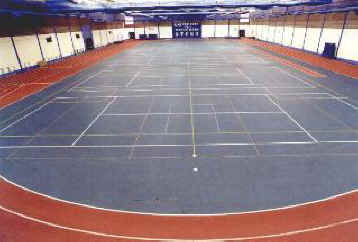 ADDITIONAL INFORMATION:
Housing and Meals: You and another participant will share a room in one of our residence halls. Each room is furnished to house two people comfortably. You will need to bring your own towels, toiletries, and blankets for a twin bed (linens are provided). Meals will be provided at camp from a variety of sources which also includes the UW-Stout cafeteria in our dining facilities.
Bring: basketball shoes, plenty of athletic socks, basketball shorts, t-shirts and any other practice gear you may need (including braces for knees, ankles, etc). If you need your ankles taped, please bring your own supplies. You may also want to bring some comfortable clothes and a small room fan.
IMPORTANT!!
Camp check-in is at Johnson Fieldhouse followed by check-in at the Residence Hall
Confirmation Letters will be sent out containing additional information and mandatory Health History Forms
$50 non-refundable deposit due with registration --- balance due at check-in
Grades listed are as of September 2009
You must have your own health insurance
The Best "Drill for Skill" Camp in the World.
Make No Mistake! This Camp will deliver you to the next level!!!